The Cambridge Certificate is an internationally recognized English language certificate, which is offered in various forms for a wide variety of purposes. Through different examinations, English language skills are tested and certified at different levels and for different purposes. Each exam is designed to help students improve their speaking, writing, reading and listening skills step by step. There are tests for children, teenagers, adults, lawyers, business English, etc. All tests are conducted in cooperation with the British Council and the qualifications are based on recognized research. The certificates are recognized and accepted by universities, employers and authorities worldwide.
Special features of the Cambridge Certificates
Probably the biggest difference compared to other language tests is that the Cambridge Certificates are valid indefinitely! Furthermore, they stand out due to the specialization of the individual tests, which cannot be found in a comparable way in any other organization. The Cambridge Certificate certifies qualified English language skills for different target groups and purposes and is based on the latest research results. The certificates are based on the Common European Framework of Reference for Languages (CEFR) and each individual certificate is assigned to a specific language level.
The Cambridge certificates at a glance
History of the Cambridge Certificates
Behind it is the non-profit organization Cambridge English Language Assesement, formerly known as ESOL. The language tests were founded in 1913 by the University of Cambridge. Since 1933, the tests have been steadily expanded and, while there was only one test in the first 20 years of existence, there are now numerous tests for different levels of language proficiency and different study groups.
The exams for the English certificates for non-native speakers are taken every year by approximately 3 million people from more than 130 countries. The certificates enjoy an excellent reputation worldwide and are recognized as an English qualification by many companies and educational institutions.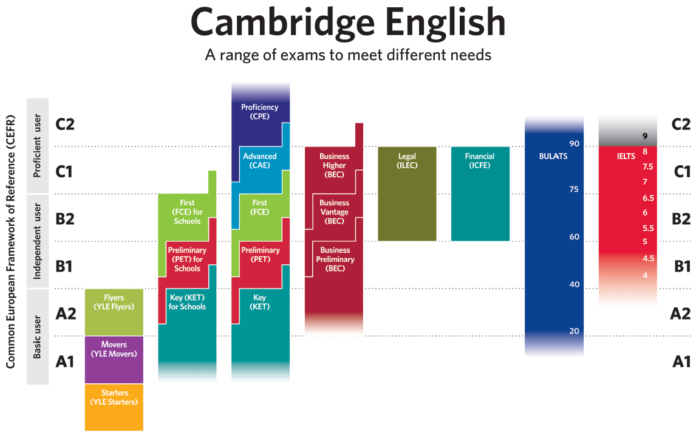 Explanation of the Cambridge Certificate GER levels
Content classification of the Cambridge Certificates
The certificates serve different objectives and are therefore suitable for different target groups. Basically, Cambridge English Certificates are divided into the following content categories with the respective level classes:
General English (for beginners or schools)
Academic English (e.g. for application to universities)
Job-related English (e.g. Business English)
English for Children
English for teachers
General English (for beginners and schools)
FCE (First Certificate of English )
Whether for academic or professional purposes, the FCE is ideal for learning the basics of everyday conversation. The course requires knowledge of English and, if the examination is successful, the participants are awarded level B2 of the CEFR. On the one hand, this increases the chances of finding a job, as companies are indicated by the fact that applicants can communicate in English and also master written correspondence. In addition, level B2 is often a prerequisite for spending a semester abroad at English-speaking universities.
KET (Key English Test)
The Key English Test is aimed at beginners who have no knowledge of the English language. Participants will graduate with level A2 of the CEFR and after the course will be able to form and understand simple sentence constructions and thus be able to conduct simple conversations and written correspondence.
PET (Preliminary English Test)
In the Preliminary English Test, basic knowledge is further deepened in order to be able to master everyday situations linguistically. The test corresponds to level B1 of the CEFR, which is the prerequisite for becoming a citizen of the United Kingdom and enables you to recognize attitudes, moods and opinions. In addition, participants learn here not only to understand conversations with native speakers, but also to be able to participate in them.
YLE (Young Learners English)
The Young Learners English Program is specifically designed for children from 7 – 12 years old. They are taught in a playful manner and can reach both A1 and A2 levels. The courses teach beginners the basics and deepen any existing knowledge. The focus is on a practical reference, which is established through easily comprehensible topics from everyday life.
English examinations for academic purposes and for the professional world
BULATS (Business Language Testing Service)
BULATS is a development of the University of Cambridge, the Universidad de Salamanca, the Goethe-Institut and the Alliance Francaise. It is aimed at companies that want to assess the language skills of their employees or applicants. The test can be taken from a level B1 of the CEFR. The test can be adapted and carried out in whole or in part.
IELTS (International English Language Testing System)
The IELTS is a test recognized in nearly 130 countries to assess English language skills. It assigns participants to categories from B1 to C2. In addition, in many countries, passing the test is a prerequisite for being allowed to study there.
ICFE (International Certificate in Financial English)
This course focuses on specific English skills that provide the vocabulary needed to work in international companies in the field of accounting and finance. In addition, the ICFE is aimed at students who wish to study in English in the relevant disciplines. The level corresponds to the B2/C1 level of the CEFR.
ILEC (International Legal English Certificate)
The ILEC prepares students for a job in English law and corresponds to upper school level. The program was developed by TransLegal and the Cambridge English Language Assessment. The target group is both law students and lawyers working internationally. Level B2/C1 is taught.
English exams for teaching
CELTA (Certificate in Teaching English to Speakers of Other Languages)
The CELTA provides content that enables teachers with little or no experience to enter the profession. The certificate is recognized worldwide and is aimed at participants at the level of C1 who are currently training to become teachers, but also at those who have no theoretical training. The entry requirements are a minimum age of 20 years, a university entrance qualification and appropriate language skills. The course lasts 4-5 weeks full-time and up to one year part-time. It can also be completed online.
DELTA (Diploma in English Language Teaching)
The DELTA course is suitable for teachers who already have work experience. Through further training they will be able to teach advanced English to adults. Prerequisites are a minimum age of 21 years, a university degree and knowledge at level C1/C2.
ICELT (In-Service Certificate in Eglisch Language Teaching)
The ICELT originated from the COTE (Certificate Overseas Teachers of English) and is also a continuing education program for English teachers who want to refine their teaching skills. The target group is teachers who teach at university, primary or secondary schools or in the private sector and who have not been in the job for a long time, have no training or have completed preparatory training for secondary school teachers in the past 12 months.
IDLTM (International Diploma in Language Teaching Management)
The IDLTM certificate is suitable for English teachers working in a university environment or in the field of management. The course was developed by the SIT Graduate Institute from America and Cambridge University. The University of Queensland in Australia was also involved. It deepens the knowledge and skills in teaching and requires a university degree, three years of professional experience and appropriate language skills.
TKT (Teching Knowledge Test)
This globally recognized TKT certificate increases the career prospects of teachers in adult education and primary and secondary education, even if they have no experience. It requires level B1 and provides both skills and self-confidence.
Classification of Cambridge Certificates according to their CEFR assignment
| | | |
| --- | --- | --- |
| GER Level | Description | Cambridge Exams |
| A1 | understand and use simple expressions, sentences | YLE, BULATS |
| A2 | participate in conversations, communicate in routine everyday situations | KET, YLE |
| B1 | follow everyday conversations | PET (for schools), BEC, TKT, IELTS, BULATS |
| B2 | well-developed linguistic skills for effortlessly following everyday conversations; writing texts related to everyday life | FCE, BEC, IELTS, BULATS |
| C1 | very distinct, profound linguistic skills of the foreign language including idioms. follow native literature. | CAE, BEC, IELTS, ILEC, ICFE, CELTA, ICELT, DELTA, BULATS |
| C2 | almost perfect foreign language skills | CPE, IELTS, ICELT, DELTA, IDLTM, BULATS |
The most popular Cambridge Certificates
Cambridge CAE
The Cambridge Certificate in Advanced English (CAE) is a language certificate of the University of Cambridge. It is the second highest ESOL exam, where ESOL stands for "English for Speakers of Other Languages". Among other things, the certificate entitles the holder to study at universities in Great Britain.
Cambridge CPE
The Cambridge Certificate of Proficiency in English (CPE) is also from the University of Cambridge and is the highest ESOL exam – the CPE is the most demanding English exam of the University of Cambridge. It certifies a very high level of proficiency in the English language and is recognized by many universities as an entry requirement for English-language courses of study.
Business English Certificate (BEC)
The Business English Certificates (BEC) are special exams for business English. They are offered at the CEF levels B1, B2 and C1. The tests test realistic situations in everyday business life and can be taken on the computer.
Preparations for the Cambridge Certificate Examinations
In general, there are quite a few scattered free learning aids for the Cambridge tests on the Internet, even the website of CambridgeEnglish.org itself offers some free learning material.
If you want to prepare for the individual Cambridge exams in a comprehensive way, books with DVDs are a very good choice, or even better, preparation courses lasting several weeks, which are offered at various language institutes and language schools worldwide. A good alternative are Cambridge courses at correspondence schools. You can find some providers under the corresponding Cambridge examinations.
Comparison Cambridge certificates with other language certificates
The Cambridge Certificates are characterized above all by the fact that they are recognized worldwide and can be taken in over 130 countries. The nearly 4 million participants who attend courses at about 14000 institutions and schools every year prove that these certificate examinations are particularly well established. What sets them apart from many other tests is their enormous versatility on several dimensions. For example, while the LCCI test only teaches British English, all Cambridge courses also cover American English. Many different programs can be taken, each with a different focus, such as Business English or teaching children.
Cambridge Certificate in Advanced English 1 Introduction